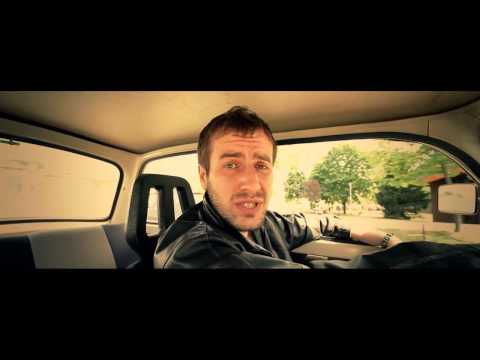 Uz splitsko-zagrebačke dječake i domaćeg Otpisanimatora, na drugom koncertu ovogodišnjeg Park Orsula Music Festivala nastupit će Kandžija i Toxara. Ovi Osječani su krajem prošle godine za Dallas Records objavili dosta hvaljeni album "Zlatne žbice", a uoči dubrovačkog koncerta kratko smo porazgovarali s Kandžijom.
Nakon dva samostalna albuma, "Zlatne Žbice" si snimio s Toxarom, a album je odmah po objavljivanju dobio dobre kritike, ali i uspjeh kod publike. Jesi li očekivao takve reakcije?
Iskreno , ništa nismo očekivali. Išli smo snimiti CD i to je to. Nekako smo pustili da sve ide kako ide. Baš smo htjeli napraviti nešto od čega nećemo imati nikakva očekivanja, niti išta, nego samo raditi oni što hoćemo. Ako nema tog uživanja, onda nema ni smisla ovo ostalo. Mi smo ispunili primarni cilj, a i ljudima se svidjelo što je isto super.
Na tom albumu su surađivali uglavnom slavonski producenti i MC-ji. Neki su "Zlatne Žbice" nazvali 'slavonskim blackout projektom'. Je li bila nekakva ideja da se pokaže da je slavonska hip-hop scena dovoljno jaka?
Nije bilo neke namjere da na albumu budu samo Slavonci. Uostalom, na albumu su gostovali Saša iz TBF-a, pa i Bwana iz Beograda tako da nije baš da su svi iz Slavonije, ali smo htjeli da ljudi nekako znaju da se to događa. To je neka naša ekipa s kojom radimo i ovako i onako i bilo bi šteta da ljudi ne znaju da to postoji pa smo htjeli obilježiti nekako taj naš skupni rad. Stvarno mislim da se stavila na mapu ta naša mjuza, ali nećemo se sada dijeliti. Bitno je da je dobra mjuza, a tko je, gdje i odakle nije ni bitno.
Kako gledaš na cijelu hrvatsku scenu? Je li se događa manjak izvođača ili je jednostavno dosta teško se probiti jer praktično nema nekog većeg medija koji daje prostor za manje izvođače. Na televizije se sa spotom ne može proći ni pod razno, a radijske postaje daju malo prostora bilo kakvoj glazbi koja odudara od komercijalne.
Mislim da je danas najveći problem da ne može doći, ne samo hip-hop, nego bilo koja druga glazba do širih medija. Danas nema više tih supkultura nego je samo jedna mainstream kultura ili ovo sve drugo što je undergound. Ili si na radiju i televiziji ili nisi nigdje, to jest na internetu si. Ipak, postoje i drugi primjeri. Recimo, moji prijatelji iz grupe Krankšvester. Oni su bez ikakvog izdavača, objavili su samo jedan spot s dva CD-a, ali imaju nekakvu svoju bazu fanova i to je najvažnije. Znači, najvažnije je da netko ima svoju priču i nju gura. Više ti ne treba ni televizija ni radio, postoji besplatni medij preko kojeg se sve može. Tako da mislim da se to i dalje može samo što je, naravno, drukčije. Ipak to nisu razmjeri koji su nekad bili. Koncerti koji su danas wow, nekad su bili najnormalniji i po količini ljudi i po svemu, tako da se to sve svelo na manje brojke i manji krug ljudi. Mislim da tko god se bude pojavio s nekim dobrim materijalom da može nešto napraviti samo što postoji taj mainstream tako da tko to želi, to će i napraviti. Ipak, mislim da je scena ipak napredovala. Tko bi rekao prije 10 godina da će TBF biti najpopularniji bend u cijeloj zemlji. Meni je to užasno drago tako da napreduje to nekako. Ne mislim ja da je sve loše.
Kakva je situacija s klubovima, ima li se gdje svirati? Jesi li ti zadovoljan promocijom "Zlatnih žbica"?
Situacija je takva kakva je. Kao i sve drugo u zemlji, ali mi smo stvarno ispromovirali CD na dosta mjesta i super je prihvaćen. Da situacija nije neka - i nije, ali drago mi je da su ljudi prepoznali. Svirali smo u Ljubljani, Zagrebu, Beogradu, Sarajevu, sve te neke pizdarije okolo što smo mogli. Nismo bili kod vas, nismo bili na moru, nismo bili u Splitu uopće. Drago nam je da dolazimo sad u petak. Realno, prošlo je tek šest mjeseci od albuma i htjeli bi više.
Što može dubrovačka publika očekivati u petak od vas?
Neka očekuje neočekivano i bit će im super. Mislim da će i očekivati neočekivano – mislit će 'tko je ovaj, što je ovaj', kad ono. Neka, neka. Dolazimo s DJ-em i mogu reći da to bude jako veselo pogotovo što je zadnji album u pravom reperskom štihu, a i mi imamo stvarno puno 'utakmica u nogama',a to neće izgledati kao kod svih repera koji puste matricu pa se repa. Mi radimo fore, imamo scratchanja, često mijenjamo beatove, izmjenjujemo se, freestylamo. Sve što misliš da je hip-hop bez veze, to nećeš ništa vidjeti. Sve ono što misliš da je dobro, to ćeš sve vidjeti.
I za kraj jedno vječno pitanje kada se radi o hip-hopu, odnosno tematici stihova. Treba li hip-hop biti socijalno osjetljiv ili glavna tema mogu biti, da parafraziram TBF,  'guzice i sise'?
Ne mislim da sve treba biti politička kritika iako je kod nas sve vezano uz politiku. I bez kritike imaš kritiku jer što god spomeneš, nešto je vezano uz to. Ja čak mislim da i te 'guzice i sise' govore o našem vremenu. Sve je neka vrsta poruke bez obzira na sadržaj. I to govori o nekom stanju koje se događa. Nisam za te priče 'sve je grozno, mrzimo politiku', ali ni za 'joj, bezveze mi je pričati o politici pa ću pričati gluposti'. Koliko god ljudi misle da mogu biti izvan svega, tu su i dalje. Život se sastoji, pa tako i muzika, od svega pomalo. Kako se god netko osjeća, tako treba i raditi. Recimo, ja ne mogu zamisliti Generala Wooa da priča neke šaljive teme, a isto je tako teško zamisliti mene da pričam neke ozbiljne teme.